Inflammaging. It's a term I keep seeing pop up in the wellness industry and now in the skin care industry. I believe we will continue to hear about it as it seems to be a growing epidemic. So what is it? Is it really important for us to talk about and if so, what can we do about it?
Inflammation; friend or foe?
Inflammation is a normal response to outside threats like stress, infection and toxic chemicals. When you get injured or have trauma such as an infection, your body will respond with inflammation. It helps signal the immune system to pay attention to that area which is affected. Our bodies use inflammation to help launch the healing process by releasing proteins via our immune system to protect our body. What happens when that inflammatory response continues and doesn't turn off? When, like a light switch, it gets gets stuck in the on position and begins to become overactive? Well that's when we start to experience what is called chronic inflammation. That can be problematic. It's like a cascade of reactions that in turn cause our immune system to turn against us. Eroding our health and even our skin which in turn causes premature aging. Yikes!
What are some of the effects of chronic inflammation?
Chronic inflammation have been linked to a myriad of issues. Do you recognize any of theses?
Attacks your joints such as RA
Disturbs our sleep
Linked to heart conditions and disease
Higher cancer risk
Effects on mental health and clarity
Makes weight loss more difficult by slowing down the metabolism, create food cravings and insulin resistance
The cause of Oxidative Stress!
Harms your gut
Causes accelerated aging
So what can we do about it?
The good news is there is hope. First, you want to recognise that silent inflammation isn't so silent and could be having more of an effect in your body and aging process than originally thought. Second, make small and sometimes large steps to put an end to chronic inflammation. What kind of steps can you take?
Find your triggers. Did you know certain foods can feed inflammation? It can also be different for each person, so check into an elimination diet to pinpoint what those are for you. I like the 131 diet or Adrenal Reset Diet.
Check your gut health and make sure you have enough digestive enzymes and probiotics to help your nutrition to be absorbed properly. See an Certified Nutritionist if necessary.
Choose to put your health first in your life and manage your stress. Make appointments for "you" time and if necessary, get your Cortisol levels checked.
Lastly, talk to us about LED Light Therapy treatments to reduce inflammation and oxidative stress over your entire body.
With a little help and diligence, there is hope to put and end to Chronic Inflammation and reduce accelerated aging known as Inflammaging.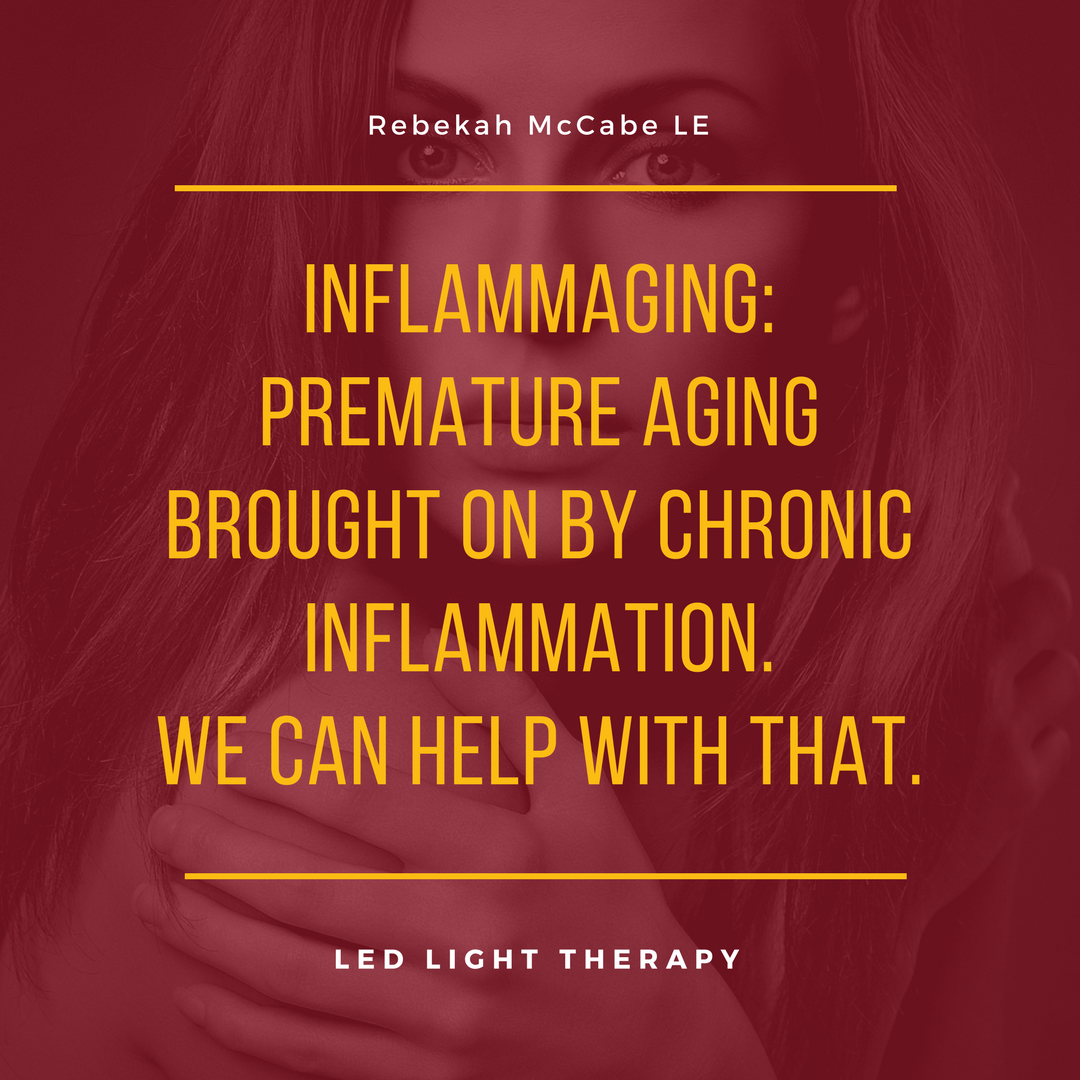 Categories: None